Corpus Christi Visitors Guide

CorpusChristi-TX.net
"The Premier Texas Coast Vacation Destination"
Corpus Christi is the second most popular vacation spot in the State of Texas and has much to offer the tourists. You will find beautiful scenery and plenty to do in Corpus Christi. Located on the Gulf of Mexico, Corpus Christi offers boating, swimming, sunbathing, fishing and more.


There are several waterfront gazebos to enjoy.

With a metropolitan population of over 500,000, the city grows considerably with the "Winter Texans" who stay in the area during the winter months enjoying the mild climate of Corpus Christi, Texas.




Corpus Christi was named after the feast day celebrating the "Body of Christ." The city's name is Latin for Body of Christ. The city started originally as a frontier trading post in 1838 by Colonel Henry Lawrence Kinney and founded by him in 1839.

The Battle of Corpus Christi was fought between August 12 and August 18 1862, during the American Civil War. United States Navy forces blockading Texas fought a small land and sea engagement with Confederate forces in and around Corpus Christi Bay and bombarded the city. Union forces defeated Confederate States Navy ships operating in the area, but were repulsed when they landed on the coast.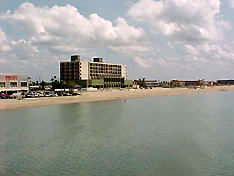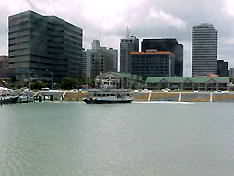 Corpus Christi Beach Area and Shoreline
Corpus Christi is located about 144 miles from San Antonio, approximately 215 miles from Austin and Houston, and 413 miles from Dallas. That is just a short distance to travel to enjoy a year-round outdoor recreation haven like Corpus Christi with all that it has to offer.

Everyone love the beaches....

Swimming is great at the beaches!

You will find miles and miles of wide, spacious beaches with surfs ideal for swimming and wading. Get a great tan sunbathing on the beaches.

Fishing is great in Corpus Christi....

Fishermen will find ample opportunities to enjoy their hobby at Corpus Christi. You can fish from the public piers, the beaches, bulkheads, or go on a chartered fishing cruise.

Enjoy nature at its finest....

They say that pelicans are the best friends of the fishermen.

Nature lovers will find plenty to observe with the seagulls, pelicans, cranes and other sea birds. You can also enjoy watching the dolphins frolic along the coast.





Services in the Area:

New Braunfels Condos and Houses For Sale- New Braunfels Real Estate
Search the entire Central Texas MLS and the San Antonio MLS without registering. Don't forget to check out the New Braunfels Real Estate blog.

Lake McQueeney Real Estate & Texas Lake Houses For Sale - Lake McQueeney, Lake Dunlap, Canyon Lake, Lake Placid

Useful Information


Get hassle free European card renewals by visiting MyEHIC

Make sure you have you're ESTA set up so you can travel anywhere.

Top 5 things to do in Texas (visit Corpus Christi, visit a casino etc.)






Home Page
Highland Lakes
Touring Texas
Touring U.S.