Corpus Christi Visitors Guide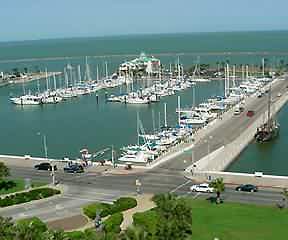 Corpus Christi is the second most popular vacation spot in the State of Texas and has much to offer the tourists. You will find beautiful scenery and plenty to do in Corpus Christi. Located on the Gulf of Mexico, Corpus Christi offers boating, swimming, sunbathing, fishing and more.


There are several waterfront gazebos to enjoy.

With a metropolitan population of over 500,000, the city grows considerably with the "Winter Texans" who stay in the area during the winter months enjoying the mild climate of Corpus Christi, Texas.




Corpus Christi was named after the feast day celebrating the "Body of Christ." The city's name is Latin for Body of Christ. The city started originally as a frontier trading post in 1838 by Colonel Henry Lawrence Kinney and founded by him in 1839.

The Battle of Corpus Christi was fought between August 12 and August 18 1862, during the American Civil War. United States Navy forces blockading Texas fought a small land and sea engagement with Confederate forces in and around Corpus Christi Bay and bombarded the city. Union forces defeated Confederate States Navy ships operating in the area, but were repulsed when they landed on the coast.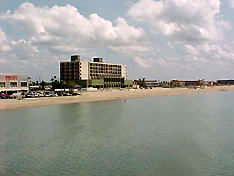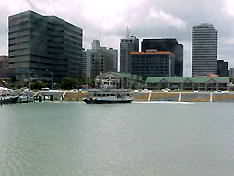 Corpus Christi Beach Area and Shoreline
Corpus Christi is located about 144 miles from San Antonio, approximately 215 miles from Austin and Houston, and 413 miles from Dallas. That is just a short distance to travel to enjoy a year-round outdoor recreation haven like Corpus Christi with all that it has to offer.

Everyone love the beaches....

Swimming is great at the beaches!

You will find miles and miles of wide, spacious beaches with surfs ideal for swimming and wading. Get a great tan sunbathing on the beaches.

Fishing is great in Corpus Christi....

Fishermen will find ample opportunities to enjoy their hobby at Corpus Christi. You can fish from the public piers, the beaches, bulkheads, or go on a chartered fishing cruise.

Enjoy nature at its finest....

They say that pelicans are the best friends of the fishermen.

Nature lovers will find plenty to observe with the seagulls, pelicans, cranes and other sea birds. You can also enjoy watching the dolphins frolic along the coast.

Want to enjoy some great seafood?

Corpus Christi has all kinds of restaurants, but the seafood is extra special.

Some restaurants have waterfront locations with great views of the water, birds, and boating activity while you dine.

Joe's Crab Shack and Landry's Seafood are just two of the restaurants to enjoy.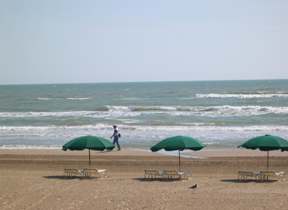 Tourist Attractions in the Area:
| | |
| --- | --- |
| USS Lexington | The Corpus Christi Art Center |
U.S.S. Lexington - Museum on the Bay - Corpus Christi
One of the top 10 attractions in the state!
Padre Island National Seashore
The largest undeveloped barrier island in the continental United States.
Texas State Aquarium - Corpus Christi
Observe dive shows and feeding demonstrations of the fish.
Funtrackers Amusement Park
The family fun center - go karts, miniture golf, bumper boats and more.
Port of Corpus Christi
The fifth largest port in the United States.
Corpus Christi Symphony
Whether is is Bronfman, Bell, Brahms, or Beethoven, the CCSO is where music lives!
Corpus Christi Chamber Music Society
World-Renowned Artists with World Class Music
Harbor Playhouse
Harbor Playhouse truly presents exceptional works of art by the community for the community.
Old Concrete StreetAmphitheater
The best place to catch any kind of live music in the city.
Lake Corpus Christi State Park
This 21,000-acre lake was formed by damming the Nueces River.
Mustang Island State Park - Mustang Island
This 3,700-acre state park has 48 campsites and 1 1/2 miles of beach camping.
Fulton Mansion - State Historic Site - Fulton
This 16 room French Second Empire architecture mansion was built in 1877.
Texas Maritime Museum - Rockport
Learn about the rich maritime heritage of the Lone Star State.
Corpus Christi Museum of Science and History
From reptiles to explorers, children to adults, there is something for everyone at the Corpus Christi Museum of Science and History.
South Texas Botanical Gardens & Nature Center
Tour this 180-acre site along Oso Creek.
Dolphin Connection - Ingleside
View dolphins in their natural habitat in Corpus Christi Bay.
Corpus Christi Greyhound Race Track
Enjoy one of the best Greyhound race tracks in Texas.
Performing Arts Center at Texas A&M University - Corpus Christi
Events and performances at the Performing Arts Center
Corpus Christi Hooks
AA Affiliate of Houston Astros
King Ranch - Kingsville
Fishing Lake Corpus Christi
Located 20 miles NE of Corpus Christi
Corpus Christi Sailing Club
The Corpus Christi Sailing Club is an active boating community on the waterfront of downtown Corpus Christi.
Wild Eye Charters
Airboat rides and fishing charters out of Port Aransas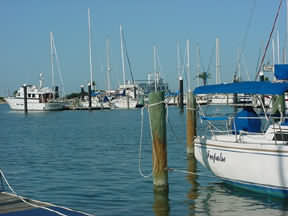 Things to do in Corpus Christi:
The beaches offer perfect swimming and sunbathing
Take a boating tour or cruise
Windsurfing, kite boarding, and scuba diving
Nature watching and photography
Fishing from the piers, the beach or a fishing charter boat
Shopping at the local tourist stores
Dining at the waterfront seafood restaurants
Touring the area on a rented bike
Strolling along the beach and out on the piers
Visit Art Centers and Museums
For a listing of Corpus Christi Golf Courses - Click Here
Scenic Cruises and Boat Tours:


Harbor Ferry


Tour boat at Corpus Christi

Woody's Sports Center - Birdwatching & Nature Tours - Port Aransas, Texas
Woody's Sports Center offers the best in bird watching in the Port Aransas area of the coast. They have the perfect boat for observing the water birds of this area. Cruise along the wetland shore line and observe Egrets, Herons, Spoonbills, Gulls, etc.

Fisherman's Wharf
Party boats, family boat trips, bird watching tours, and charter fishing. Includes map, rates, and birding schedule. Home of the Wharf Cat and Scat Cat.
Corpus Christi, Texas offers sunbathing on the beach, swimming in the surf, fishing, fishing guides, boat tours, and fishing tours. Galveston also has shopping, sight seeing, tourist attractions, seafood restaurants, historic buildings, surfing and more. Swim in the gulf of Mexico at Corpus Christi.



Services in the Area:
South Texas Movers - Looking to relocate your corporate office without compromising on your business' productivity? South Texas Movers Offers you the most reliable office moving services In and Out of Corpus Christi and South Texas. Call us today on 361-853-0243 - 800-788-8194 for further information.

New Braunfels Condos and Houses For Sale- New Braunfels Real Estate
Search the entire Central Texas MLS and the San Antonio MLS without registering. Don't forget to check out the New Braunfels Real Estate blog.

Lake McQueeney Real Estate & Texas Lake Houses For Sale - Lake McQueeney, Lake Dunlap, Canyon Lake, Lake Placid

Useful Information


Get hassle free European card renewals by visiting MyEHIC

Make sure you have you're ESTA set up so you can travel anywhere.

Top 5 things to do in Texas (visit Corpus Christi, visit a casino etc.)
Corpus Christi, Texas Weather Forecast
Click for weather forecast
Vacation Rentals
VacationHouses, Cabins For Rent and RV Spaces needed.
Our viewers are looking for vacation rentals in Corpus Christi.
If you have a vacation rental, we can bring you a lot of renters.
Please email us at info@corpuschristi-tx.net.
If you know of a web page that should be included on this
web site, please email us at info@corpuschristi-tx.net.